How it works
With VPM, you're in control of your mail.
Choose your address, update your address with mailers, and manage your mail from anywhere.
Pick your VPM address
Select a state with benefits like no state income tax or sales tax, or choose a location close to home for lower shipping costs.
Explore locations
Have your mail sent to your new VPM address
Option 1: Forward your mail
Option 2: Send it direct
Update your mailing address with mail senders to have mail sent to your new address directly.
Mail is received at the VPM location
All of your mail is received, processed, and stored at the secure location that hosts your mailbox address.
Since your mail is not rerouted to a central processing center, you can expect shorter wait times and a reduced risk of your mail being lost or damaged.
See how your mail is secured
Check your virtual mailbox
Receive email alerts that include images of your mail, so you'll know right away if you have any important or time-sensitive mail.
Then, login to your online mailbox to read your mail. Anytime. Anywhere.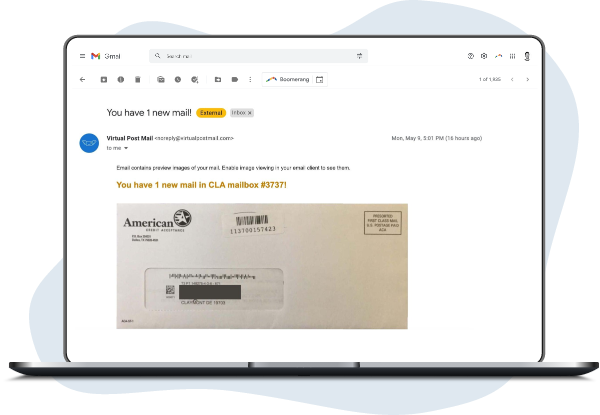 Learn more
Take action with your mail
Decide what you'd like to do with your mail. Choose from any of the options below.
Enjoy your freedom
Gone are the days of being tied to a physical location.
So, grab that sweet and salty margarita drink, dip your toes in the sand, and relax knowing you have peace of mind when it comes to your mail.
Take Control of Your Mail Now